Tenku No Niwa Hoshi No Naru Ki
Japanese Cuisine (Kaiseki) | Tenku No Niwa Hoshi No Naru Ki
Concept
Under the theme of 'Onkochishin,' which means developing new ideas based on the study of the past, Hoshi No Naru Ki continues to create a new world of modern Japanese cuisine by combining the old and the new or tradition and innovation so that our guests can enjoy their meals, which are neither only authentic Japanese dishes nor only new-fashioned ones. Hoshi No Naru Ki aims for Japanese dishes with unlimited potential based on 'tradition and innovation,' which can only be created by those with solid technique and profound knowledge.

Omotenashi
What we value in 'Omotenashi'(Japanese hospitality) is that both our guests and our restaurant can think of a precious moment we shared as "a great time." Neither only clean rooms nor only expensive dishware is enough. At Hoshi No Naru Ki, all staff members always keep in mind to provide a courteous service tailored to each one of our guests, and we look forward to serving them.

Chic Quality Space Interwoven by Japanese and Western Styles
'Nature' is an underlying concept of Japanese aesthetic consciousness. As shown by the words 'Kachofugetsu (flowers, birds, the wind, and the moon)' and 'Setsugetsuka (snow, the moon, and flowers),' the Japanese people have found 'beauty' in 'nature' since ancient times. Introducing such Japanese beauty to the interior, we serve our guests in a relaxing space arranged with various types of private dining spaces where the element of comfort is incorporated into a calm atmosphere. We would love to serve our guests for their birthdays, memorial days, wining and dining, or meals for special occasions.
Lunch Guidance
【 LUNCH ~SOUKYU~ 】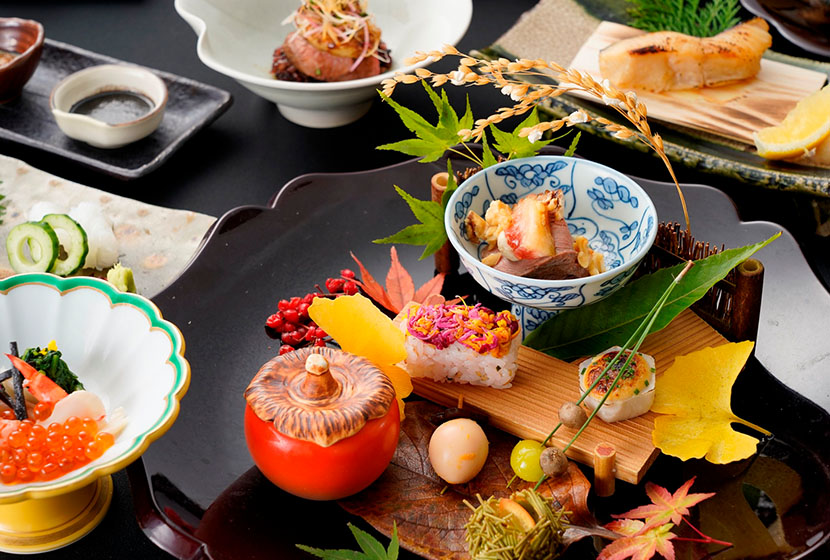 Number of people
1people~
price
6,600yen (tax included/subject to service charge)
Reservation deadline
Please make a reservation by 10:00 a.m. on the day before your desired reservation date.
Notice

Detail

※The menus are just examples and vary with the seasons and the availability of ingredients.
※Orders are subject to a 10% service charge.
※If allergic to any ingredients, please notify us in advance when making a reservation.
※Children in elementary school or younger may only use private dining rooms.
※The use of private dining rooms is subject to a private room charge (which starts from 5,500 yen (tax included) and varies depending on the room size).
※A cancelation fee will be charged as below.
■ When reservations are canceled
・On the reservation date without cancellation notice: 100%・On the reservation date with cancellation notice: 100%・After 00:00 a.m. on the day three days before the reservation date: 50%・After 00:00 a.m. on the day seven days before the reservation date: 30%
■ When reservations are changed
・On the reservation date without cancellation notice: 100%・On the reservation date with cancellation notice: 100%・After 00:00 a.m. on the day three days before the reservation date: 50%・After 00:00 a.m. on the day seven days before the reservation date: 30%


content

Examples of menus

Delicacies
・Wagyu Beef Soup Soy Kyoto carrots
・Citrus yuzu-miso glazed wormwood fu (Japanese dried wheat gluten)
・Monkfish liver with taro and lily bulb shiitake mushrooms Chives Citrus yuzu
・Strawberry and kiwi served with mashed tofu salad with pistachios
・Boiled duck meat Spring cabbage dressed with mustard
・Thin-sliced vegetables rolled with Arctic salmon, strips of thin omelet, and kidney beans
・Carrot Castella with sweet simmered black soybeans

Soup bowl
Pureed cauliflower soup Steamed shrimp dumplings Grilled shiitake mushrooms Rape flowers Citrus Yuzu peel

Sashimi
Three kinds of fresh fish direct from Kochi

Additional appetizer
Steamed mochi rice topped with black wagyu beef Emmental cheese Japanese zenmai royal fern Fried Japanese leek with various leaves "flower" lotus root

Grilled dish
Grilled sea bream with Fukinoto butterbur scape miso paste Pureed napa soup Kudagobou burdock lotus root brussels sprouts Wild mustard

Rice dish
Iwate Junjo Premium Hitomebore
Two kinds of homemade pickles with Japanese rolled omelet

Dessert
Wasanbon refined sugar smooth pudding

※There is an English menu
Lunch plan
■【Weekdays only】HOUJYU 3,300yen (tax included/subject to service charge)
■【Weekdays only】HYAKKARYOURAN 4,400yen (tax included/subject to service charge)
■MIYABI 8,800yen (tax included/subject to service charge)
■KOTOBUKI 11,000yen (tax included/subject to service charge)

■Lunch reservation
Allday A western-style table (1-4 persons)
Weekdays A semi-private room (2-4 persons)
Weekends & Holidays A semi-private room (2-4 persons)
Weekdays A private room (4-80 persons)
Weekends & Holidays A private room (4-80 persons)

Dinner Guidance
【 DINNER ~ONKOCHISHIN~ 】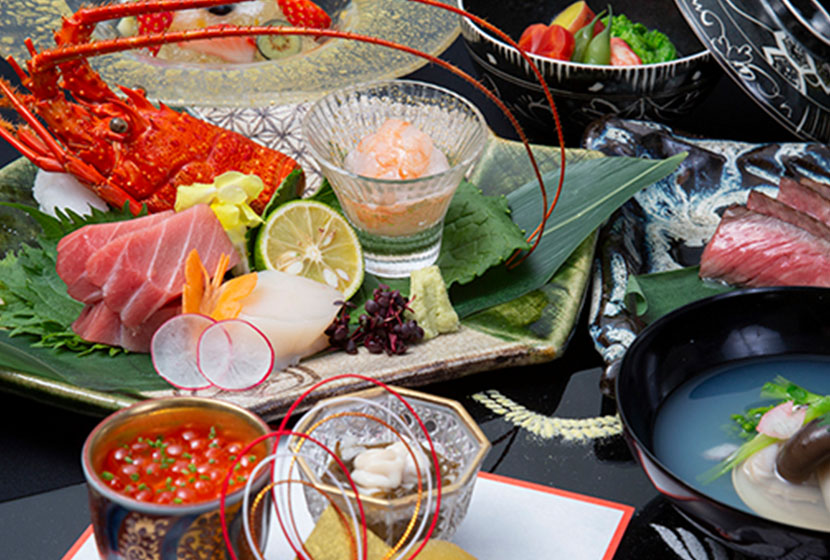 Number of people
1people~
price
13,200yen (tax included/subject to service charge)
Reservation deadline
Please make a reservation by 2:00 p.m. on the day before your desired reservation date.
Notice

Detail

※The menus are just examples and vary with the seasons and the availability of ingredients.
※Orders are subject to a 10% service charge.
※If allergic to any ingredients, please notify us in advance when making a reservation.
※Children in elementary school or younger may only use private dining rooms.
※The use of private dining rooms is subject to a private room charge (which starts from 5,500 yen (tax included) and varies depending on the room size).
※A cancelation fee will be charged as below.
■ When reservations are canceled
・On the reservation date without cancellation notice: 100%・On the reservation date with cancellation notice: 100%・After 00:00 a.m. on the day three days before the reservation date: 50%・After 00:00 a.m. on the day seven days before the reservation date: 30%
■ When reservations are changed
・On the reservation date without cancellation notice: 100%・On the reservation date with cancellation notice: 100%・After 00:00 a.m. on the day three days before the reservation date: 50%・After 00:00 a.m. on the day seven days before the reservation date: 30%


content

Examples of menus

Amuse
Wakatakeni (simmered bamboo shoots and seaweed) Udo shoot White-fleshed fish with roe Plum shaped Ume-Fu (Japanese dried wheat gluten) Konome Japanese pepper

Soup bowl
Hamagurishiojitate clam soup Grilled shiitake mushrooms Rape flowers Citrus Yuzu peel

Sashimi
Five kinds of fresh fish direct from Kochi

Delicacies
・Grilled chlamys nobilis with Konome Japanese pepper miso paste Wormwood fu (Japanese dried wheat gluten) Shiitake mushrooms Asparagus
・Steamed mochi rice topped with black wagyu beef Emmental cheese Japanese zenmai royal fern Fried Japanese leek with various leaves "flower" lotus root
・Monkfish liver with taro and lily bulb shiitake mushrooms Chives Citrus yuzu
・Chicken lever-filled wafers Iburigakko smoked radish pickles Kumquat jam Amaranthus
・Boiled duck meat Spring cabbage dressed with mustard
・Thin-sliced vegetables rolled with Arctic salmon, strips of thin omelet, and kidney beans
・Carrot Castella with sweet simmered black soybeans

Steamed dish
Steamed egg custard with shrimp stock and truffle served with fire-roasted chicken and shiitake mushroom on a scented spoon

Vegetable dish
Spring clams in a salad style Whelk Adductor muscles Mixed salad leaves Watermelon radish Gelée of Fukinoto butterbur scapes Kogomi ostrich fern Kyoto carrots

Additional appetizer
Black wagyu beef fragrant smell shabu shabu Iwate-produced Japanese sansyo pepper starchy sauce Shidoke leaves Burdock Japanese leek

Rice dish
Seasoned Iwate Junjo Premium Hitomebore Rice with Takenoko Bamboo shoot and chicken Japanese Seri parsley
Two kinds of sliced japanese pickles

Dessert
Sorbet with Iwate-produced apples and Cornellana Gran Reserva Spiced stewed apples Iwaizumi yogurt espuma Gelée of white wine and apples Croquant Mint

※There is an English menu
Dinner plan
■ICHIGOICHIE 8,800yen (tax included/subject to service charge)
■TAKUMI 16,500yen (tax included/subject to service charge)
■KIWAMI 22,000yen (tax included/subject to service charge)
■HOSHINONARUKI 33,000yen (tax included/subject to service charge)

■Dinner reservation
All day A western-style table (1-4 persons)
All day A semi-private room (2-4 persons)
All day A private room (4-80 persons)
Restaurant Name
Tenku No Niwa Hoshi No Naru Ki
Address
Sunshine60 59F, 3-1 Higashiikebukuro, Toshima-ku, Tokyo 170-6059
Telephone number
03-5485-3939
Access
【From Ikebukuro Station】
1. The nearest exit is Ikebukuro Station East Exit 35.
2. Proceed along Sunshine 60 Street and you will find the entrance to the Sunshine City underground passage (escalator) next to Sunshine Vision on the right.
【From Higashi-Ikebukuro Station】
1. Please use the underground passage written as "Sunshine City Underground Passage" immediately after exiting Exit 6 and 7.
Open
≪Monday-Friday≫ Lunch 11:30~15:00/ Dinne 17:00~22:00
≪Saturday and Sundays and public holidays≫ Lunch 11:30~16:00/ Dinner 17:00~22:00
Closed
December 31/January 1
■Irregular holidays (according to Sunshine City)